CLUB COMMITTEE
The Committee of the Finnish Lapphund Club of Victoria exists to represent members interests, and manage the general running of the Club and its activities. All Committee positions are open for election on an annual basis at the FLCV Annual General Meeting, as per the FLCV Rules.
If you have interest in one day running for a position on Committee, please contact the Secretary who can explain to you the process of election and the general commitment required.
The 2019 committee has now been elected. Read on to learn more about each committee member.
President – Shareen Chouffot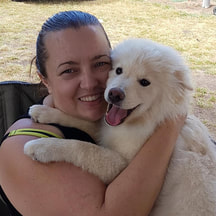 After first discovering Finnish Lapphunds in 2007, it took Shareen almost two years to welcome home her first and second Lappies, Mischa and Dolce. She now has four Lappies living at home, and together with her partner, Glen Brassington breeds under the prefix 'Caleebra'.
Her canine interests include Conformation, Obedience, Tricks, Rally-O and Agility, though she only competes at Shows and Rally as she's too clumsy for the other two. Her best friend and heart dog, 'Dolce', has led her life in a very peculiar direction, where she's become a crazy dog lady and President of a breed club. Curiouser and curiouser …
EMAIL: president@flcv.org
Vice President – Megan Ruff
Megan has been involved with Finnish Lapphunds since attending a Lappie Picnic in 2009, welcoming her first Lappie Tarja into her home in 2010. She went from a first-time dog owner and novice showie to a regular show competitor and dabbled with some club obedience and herding, and bred her first litter under the 'Aetherglow' prefix in 2014.
​Megan takes an active interest in showing, training and enjoying the breed as family members and companions, and currently lives with two Lappies, Tarja and Aslak.
EMAIL: vicepresident@flcv.org
Treasurer & Show Secretary – Sue Sharp
In 2002 Sue and Wayne welcomed the first Finnish Lapphund bitch to Victoria. This started their love affair for the breed.With Ch Theldaroy Wild About Me (Kiki) Sue set about learning as much as she could about the breed, with lots of help from Finland. They travelled around the country showing their dogs and spreading the word about the breed.
Her first breed was Border Collies which she had for 25 years under the 'Janoby Kennels' prefix. Sue was also an obedience judge and top level instructor at Southern Obedience Club. She also served for seven years on the BC Club Committee and spent 10 years as a private dog instructor fixing temperament problems, teaching agility, obedience and show classes.
Sue has served on the FLCV Committee for many years now as Show Secretary and Treasurer, and seen the club grow into the open friendly club willing help in whatever way it can. Sue brings many years of club and dog experience. 
EMAIL: treasurer@flcv.org
Secretary – Terri MacDonald
Terri has been involved with Lappies for over a decade, obtaining her first Lappie in 2008 and joining the FLCV as one of the original Committee members. Showing and breeding under the 'Taigakoira' kennel prefix, Terri has been active in both the Finnish Lapphund community and Dogs Victoria more broadly since this time. She has also had the pleasure of seeing (and even showing) Lappies internationally, in Finland, Sweden and Norway, and has imported a number of new lines into the country.
Taigakoira bred Lappies have done well in and out of the show rings, with highlights including Best in Show wins at multiple FLCV breed specialty championship shows as well as multiple all-breed championship shows (pictured with multi best in show winner, Zeke (Supreme Ch. Taigakoira Tahtien Valo (AI)), co-owned with Huey Miin Lim) after he won Best of Breed at Sydney Royal).
Terri and her family live north of Melbourne on a small property with ducks, chickens, alpacas, sheep and of course, a number of spoilt Lappies who very much enjoy both the couch and country life! Terri currently holds the positions of Club Secretary, FLCV Education Officer and FLCV Health Officer.
EMAIL: secretary@flcv.org
Education Officer – Terri MacDonald
Terri has kindly taken up the role as the Education Officer this year on top of her responsibilities as the Health Officer and Secretary.
EMAIL: education@flcv.org
Fundraising Officer – Helen Green
Helen fell in love with Lappies while helping her friend handle her puppy in the show ring. She welcomed her wolf sable girl, Indie into her home in September 2016. Indie excels at herding but as Helen lives in Geelong, training is quite the road trip.
So for now, she currently shows Indie and is in training for Rally-O trials. Helen is looking forward to spearheading fundraising drives for the Club.
EMAIL: fundraiser@flcv.org
Health Officer – Terri MacDonald
Terri has kindly taken up the role as the Health Officer this year on top of her responsibilities as the Education Officer and Secretary.
EMAIL: health@flcv.org
Member Liaison – Alice Bayly
Alice's love of Lappies started in 2013 after extensive research into suitable breeds for her lifestyle. Drawn to the intelligent nature of Finnish Lapphunds and having owned working breeds in the past, she brought Fenix home in early 2014 and he hasn't left her side since.
With help from Fenix, Alice discovered her real passion in pet photography, starting her own photography business with the hope that one day she'll win the lotto so that photographing Fenix (and other peoples pets) can be her full time job.​
EMAIL: members@flcv.org
Newsletter Editor – Nicole Pope
Nicole discovered Lappies about three years ago and was often found helping the late Kim Thompson (Finnesse Kennels) at local dog shows and harassing SA owners to meet their dogs. Her heart-dog, Asko arrived with a ring around his neck and she wasn't sure which she was more excited about … her engagement or long-awaited fluff ball.
Asko tags along to her outdoor training most mornings, where he is a much-loved mascot. They also enjoy obedience training, herding, weekend hikes and have just started tracking. Nicole is a Lappie advocate in SA, helping people meet the breed and organising catchups with owners.
As Newsletter Editor, she plans on deepening the Lappie obsession (sorry, not sorry!) among members through the sharing of stories, pictures and successes. 
EMAIL: newsletter@flcv.org
Publicity Officer – Sue Taylor
Sue's introduction to Lappies began when a good friend introduced her to the breed. Not long after she met her first Lappies, Sue fell in love and ended up bringing one home, all in a matter of weeks. She is the owner of the cheeky, beautiful and adventurous Mimi (cream dog on right).
As most Lappie owners will tell you, you can't have just one. So when Alleria (Mimi's mum) was having another litter, Sue begged her breeder for one and got the handsome, cuddly Skipper (Sable dog on left). At the moment she attempts to go to our local obedience club and hopes to do more dog sports in the future.
Sue attends many FLCV functions, which we thoroughly enjoys, along with the great people in the club. Being a passionate FLCV member, she's on the Committee to help out wherever she can.​
EMAIL: publicity@flcv.org
Puppy/Adult Referral Officer – Leah Benakovic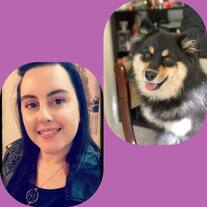 As a relatively new-comer to Finnish Lapphunds, Leah found out about the breed in June 2018 and after falling in love she got the amazing opportunity to take on a 6 month old girl in late November 2018.
Her Lappie is named Korra. Leah is showing at the moment but is looking forward to getting into more dog sports in the coming months.
EMAIL: puppies@flcv.org
Webmaster – Caitlin Williams
Caitlin fell in love with Finnish Lapphunds after a trip to Finland in 2014. After meeting some more Lappies at the Melbourne Dog Lovers Show in 2015, the decision was made to find one to bring into her home.
Maddi, a 4 year old mature Lappie from Theldaroy Kennels, arrived in August 2015. One Lappie isn't enough of course, and Helvi the puppy joined the family in January 2019. Caitlin shows Maddi as a neuter and Helvi as a bitch in many Victorian shows. She is planning to explore other activities with Helvi as she gets older, including dog sports, agility, and anything else that Helvi decides she likes! #soccermom
As Webmaster for the FLCV, Caitlin is looking forward to becoming more involved in other club activities, as well as assisting the Committee to further the breed in Victoria and Australia.
EMAIL: webmaster@flcv.org
Working Dog Officer – Nicole Wain
Nicole has successfully competed with 3 dogs (1 Lappie) in Obedience, Rally-O and Agility. Since getting her Lappie she has also competed in herding and training for the Endurance Test.
There are so many different sports out there that Lappies would do so well in and Nicole hopes to get a few training clinics organised in the next 12 months, so that our members can try them out.
EMAIL: workingdog@flcv.org